"Bring Beauty, Richness and Durability
to Your Home"
Features:
* Extreme hardness and scratch resistant.
* Twice the strength of granite.
* Non-porous/NSF rated. Suitable for all food prep.
* Stain and bacteria resistant.
* Maintenance free. Clean with soap & water.
* Wide color selection.
* More consistent color pattern than granite.
* Not recommended for extreme heat applications.
"Locally owned and operated, proudly made in Cadott, Wisconsin, handmade to order, one at a time."
Cultured marble is a resilient material frequently used for countertops, sinks, bathtub surrounds and vanities. Cultured marble is a solid material, whereas granite is porous like concrete.
They are man-made products with a blend of resin, natural pigments and natural mineral fillers. They are manufactured in a molded process.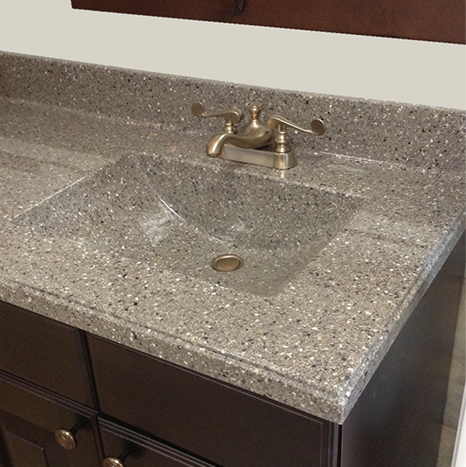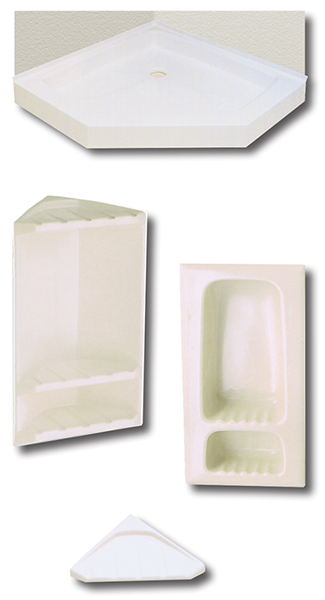 Experience – Quality – Service
Unlike many countertop materials;, cast polymer products are made with a casting process using molds. This process allows for greater design flexibility than stone. You select the size, shape, bowl style, edge option and color to create a one-of-a-kind countertop.
Shower Bases, Walls and Accessories
Decorate your bathroom with our color coordinated shower bases, wall panels, tub decks and accessories. For Shower Accessories – click to view.
"Five (5) Year Limited Warranty"
Viking Sink Company, LLC expressly warrants its products for five years. Viking Sink Company, LLC, at it's option, may repair, replace or make suitable adjustment(s) if the product fails due to a manufacturing defect that is discovered during the first five (5) years after the initial purchase. This limited warranty does not include labor charges needed to repair or replace the product, nor does it include labor to remove, repair or replace fixtures, hardware, or decorative treatments.
**Warranty for Series 1– is limited to one (1) year.
Documents & Specs
Cultured Marble Order Forms